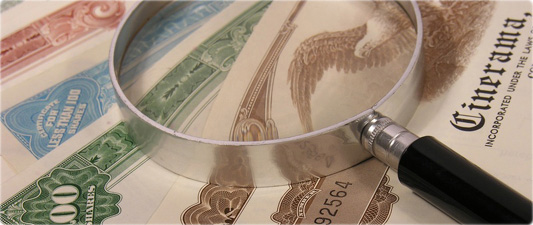 Shares valuation, valuation of securities
Today's businesses are increasingly looking to integrate into the international economy. One of the most important and effective tools for attracting the necessary investment for this is the utilization of shares, bonds and other securities in stock markets and world exchanges. The valuation of shares and other securities are used to determine the market value of:
Equity securities

ordinary shares of a company
preferred shares of a company

Debt securities
Derivative securities
The securities issued by public financial institutions (stock exchanges or banks), companies and other organizations.
The main purpose of the placing shares on the market is to raise funds for: the implementation of new projects, debt restructuring and its documentation and the repayment of a deficit.
Investor shares are tools to generate income for the investor and are also used to plan the financial activity of a company. Additionally they act as an insurance against interest rates lowering.
The process of stock and securities valuation is influenced by their liquidity, quoted prices for similar securities, the supply and demand of their peers, their yields or estimated value of future earnings, the characteristics of the issuer (such as financial performance, industry affiliation, location), the overall reliability of the company and the possible risk of obligations non-fulfillment.
---
Areas of stock and security valuation
Swiss Appraisal offers the following:
Listed stocks valuation
Non-listed stocks valuation
Valuation of quoted and unquoted bills
Bonds valuation
Blocks of shares valuation
Issuer valuation
To find out more about stock and securities valuation, please
send a request via the website
.
---
Spheres of securities valuation
Swiss Appraisal employs both specialized and broad-industry experts, who have extensive experience in the valuation of shares in the following industries:
Banking sector
Chemical industry
Construction
Digital communications
Electric power industry
Financial services
Food and beverages (F&B)
Health care
Hotel business
Insurance
Investment funds
Investments

IT
Logistics
Media-companies
Oil and gas sector
Production sector
Retail
Service sectors
Start-up companies
Telecommunication sector
Tourism
Unit investment trusts
Wood-processing industry
---
What you will get in Swiss Appraisal's securities valuation report
Deep analysis of the enterprise's shares from the point of view of their structure and characteristics. In particular we determine their liquidity and the possibility of minority discounts or control premiums
Analysis of provided documents
Analysis of the company's past financial and economic activities (3-5 years)
Detailed analysis of long-term investments
A choice of adequate calculation methods and techniques
Justification of subject ratios
---
Swiss Appraisal's unique approach to shares valuation
Swiss Appraisal valuates shares and other securities using unique, international sources received from international investment banks
Swiss Appraisal calculates financial ratios by consulting the world's experts in financial analysis
Swiss Appraisal applies a unique model of valuation for majority / minority shareholders and calculates liquidity discounts and control premiums
Your choice of adequate multipliers
Your choice of suitable cash flows types
Swiss Appraisal uses all publicly available information on all comparable securities
Swiss Appraisal keeps an eye on all major international deals
The data processing and market analysis center prepares updated reports weekly
For more information about securities valuation, please contact our Swiss Appraisal
regional office
.