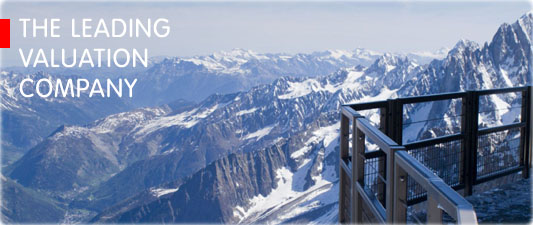 Business valuation, enterprise's property valuation services
Swiss Appraisal is the most dynamic valuation company in the market today. Built and staffed with professionals, we pride ourselves on the quality of our work. In accordance with international standards, we provide a full range of valuation services on tangible and intangible assets for:
Medium to large businesses
Corporate entities
Public institutions
| | | | |
| --- | --- | --- | --- |
| | | | Swiss Appraisal is a member of Switzerland Global Enterprise (The Swiss Center for Entrepreneurship) - an organization, which supports the development of Swiss companies all over the world. |
More about the company...
---
Swiss Appraisal offers the following
services
:
Swiss Appraisal is well aware of the unique challenges facing each of our clients. We work hard to offer high quality solutions custom tailored to our clients' specific needs.
---
The market-based valuation of an enterprise and business valuation
Some of the main activities of Swiss Appraisal are independent business and enterprise valuations.
When preparing a report on business or enterprise valuation, Swiss Appraisal conducts a full valuation of assets and liabilities of the company. It includes the valuation of property, land, shares and other securities, transport, equipment and machinery, stock reserves and more, plus an analysis of relevant financial flows. The valuation of a company also involves intangible assets: property rights, objects of copyright and related licenses as well as trade secrets. The third important aspect according to the valuation of an enterprise or the valuation of a business is the operating efficiency of the company's past and present, which are then projected into the future in relation to the dynamics of the market and the activities of major competitors.
Enterprise property valuation and business valuation are particularly important in the following situations:
Valuation for the tenancy right of a property / business segment
Valuation of a company's shares and the contribution to share capital
Valuation of investments and investment projects
Valuation for property division and property disputes
Valuation for the purchase / sale of property
Valuation of collateral for loans
Revaluation of fixed assets and funds
Valuation of a company's assets IPO
Valuation for the acquisition of fixed assets
Company valuation for mergers and acquisitions
Insurance valuation
Valuation for court and the judicial valuation of property
Valuation for assigning IP rights and licenses
Independent valuation of lost profits and income foregone
Valuation for the financing of an enterprise
Business property valuation is usually conducted with sales comparison and income approaches. Swiss Appraisal as a leading international valuation company constantly follows changes in the legislation of many countries. Our valuation reports meet all international standards.
---
The valuation company Swiss Appraisal has developed a unique methodology for valuation, which combines both local and international appraisal standards.
Swiss Appraisal's approach is based on a clear understanding of business problems and the innovative methods of their solutions, taking into account any national peculiarities and utilizing a profound knowledge of our customers and partners specific industries and sectors.